GETTING HERE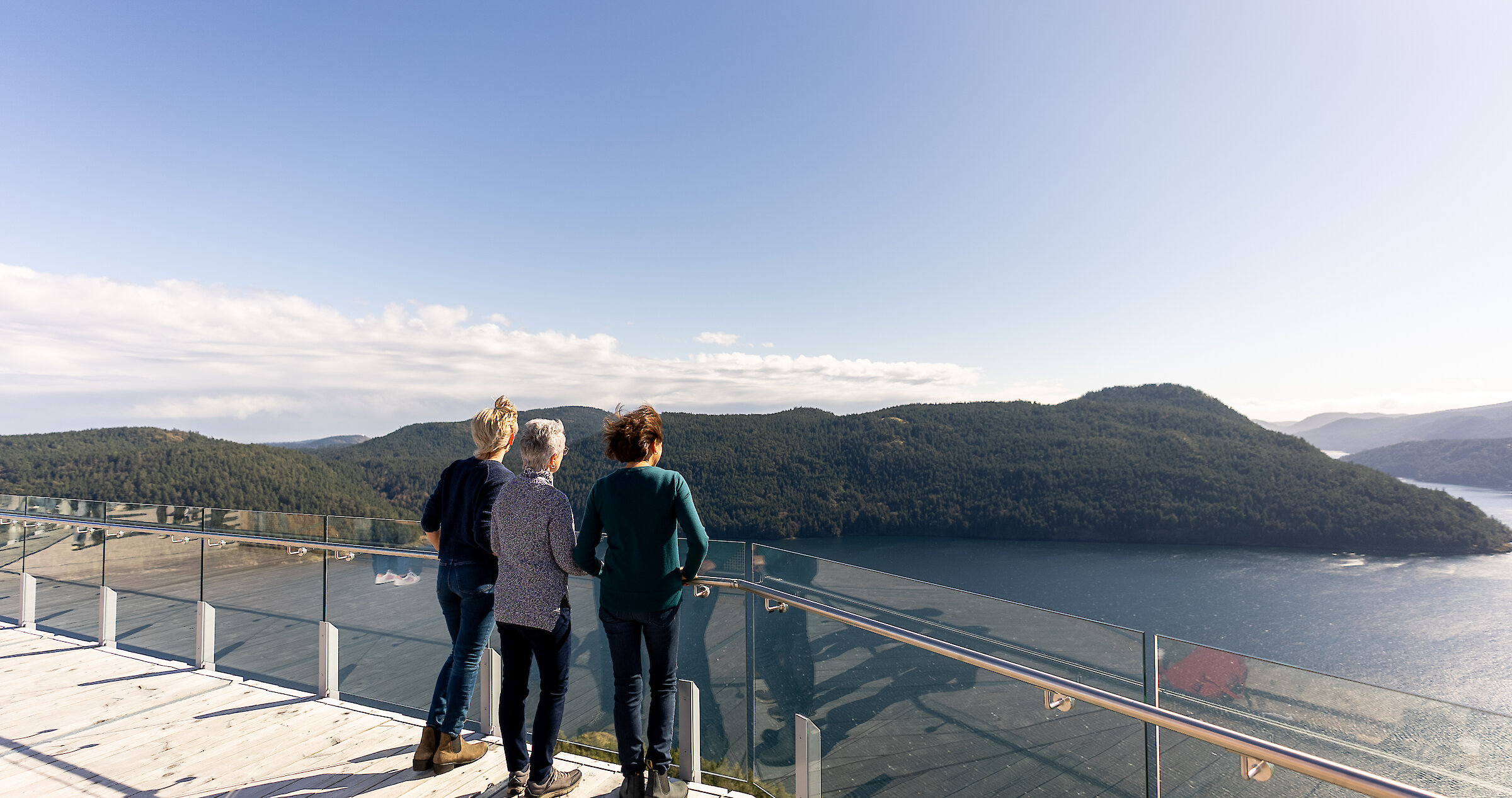 Conveniently located on Vancouver Island's Malahat Highway (TransCanada Highway), a stunning 35-minute drive north of Victoria and one hour south of Nanaimo.
Situated along the Pacific Marine Circle Route in Cowichan Valley's lush, green forests, stunning orchards, and award-winning vineyards, our location provides the opportunity to create a travel itinerary that is a true Vancouver Island experience.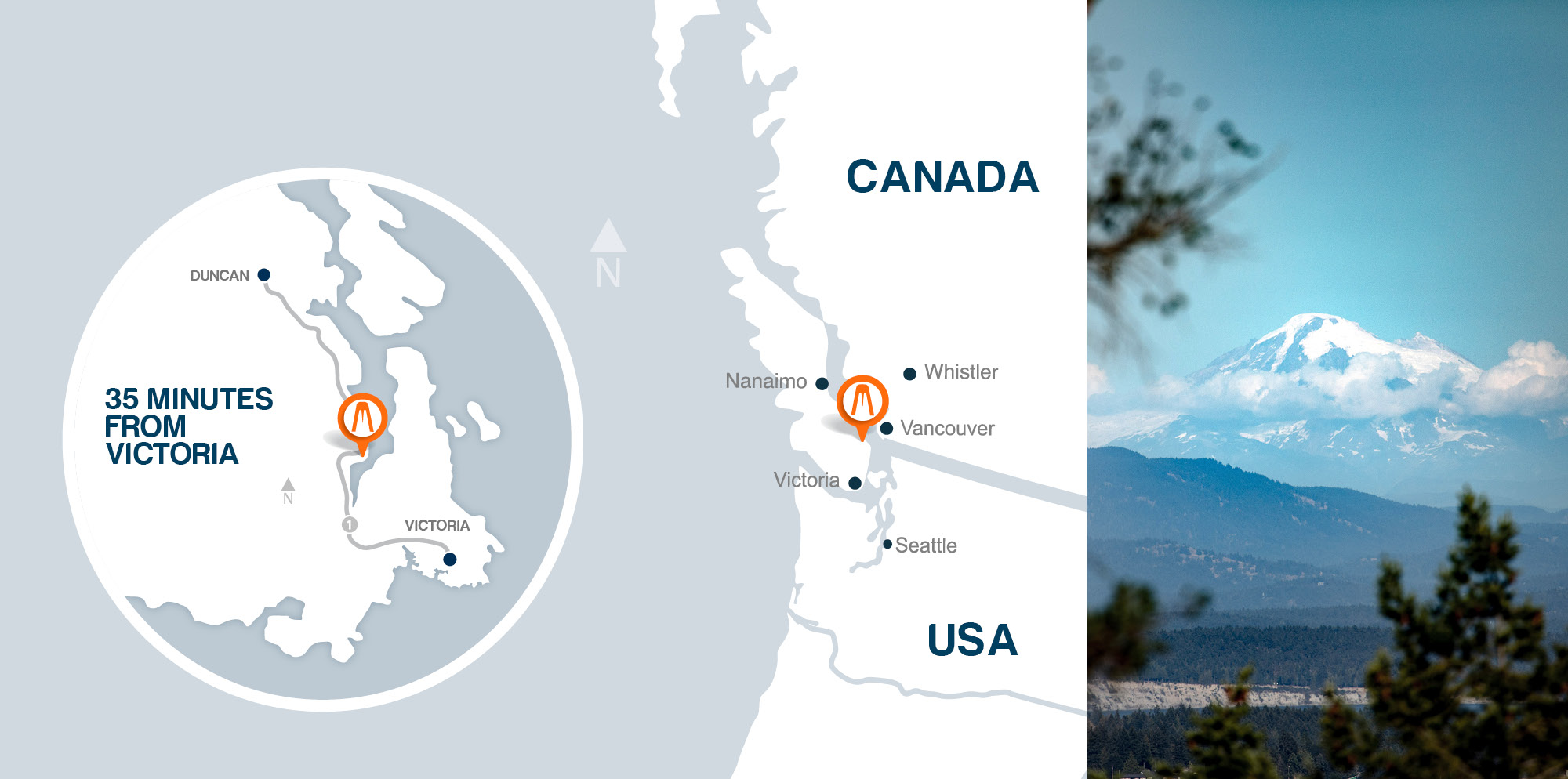 FROM THE MAINLAND
Travelling from Metro Vancouver? Choose from one of many BC Ferries routes, take a scenic seaplane, or catch a helicopter flight and rent a car or bike for a unique island adventure. Travel time by ferry is 3-3.5 hours depending on port of arrival.
ON THE ISLAND
Travel from Downtown Victoria
Head North on Douglas Street/ Trans Canada Highway 1N
Continue to travel North through Victoria toward McKenzie Avenue
Continue past McKenzie Avenue exit approximately 27 km and
Destination exit will be on your right (approximately 4 km past Shawnigan Lake Road)
Travel from Swartz Bay, Victoria
Head South on Ferry Ramp toward BC-17 for 26 km
Take exit 7 for McKenzie Ave towards Trans Canada Hwy/BC-1/Nanaimo
Keep right at the fork, follow signs for McKenzie Avenue W/Nanaimo/TransCanada Highway 1
Continue on Trans Canada Highway 1 approximately 27 km and
Destination exit will be on your right (approximately 4 km past Shawnigan Lake Road)
Travel from Departure Bay, Nanaimo
Exit the ferry and go South on Stewart Avenue following the signs for TC Highway 1 South Victoria
Continue onto Trans-Canada Hwy/BC-1 S approximately 80 km
Malahat SkyWalk will be on the left and you must pass the entrance sign and follow signs to the designated U Turn at Malahat Chalet on the east side of the highway
To access the attraction, please follow U Turn directions to return north and destination will be on your right
MALAHAT SKYWALK SHUTTLE from DOWNTOWN VICTORIA
Island Time Tours offers a *daily shuttle service departing at 11:00 am with pick up from four (4) convenient locations in downtown Victoria.
All bookings are direct with Island Time Tours. Book online, phone 1.250.477.3322 or text 250.516.6077
If you have questions about a booking or reservation, please contact Island Time Tours directly. by phone or email Enable JavaScript to view protected content.
**This is a private service, not operated by Malahat SkyWalk
PARKING
Complimentary, and plenty of space for RVs/motorhomes.
*No overnight parking permitted
WHERE TO STAY
The legendary Cowichan Valley offers so much to do—why not spend a few days?
Located just minutes from Malahat SkyWalk, this lodge not only offers a variety of luxurious rooms, but also a gourmet restuarant featuring the freshest fish, savoury steaks, and rich local wines.
Treat yourself to Italian-inspired hospitality and world-class dining on site. The 106 acre resort includes a mineral pool, spa services, and spectacular views from spacious decks.
Located off the TransCanada Highway, half-way between Victoria and Nanaimo, this pet-friendly hotel is within reach of vineyards, shopping, and great family dining choices.
Best Western Cowichan Valley Inn
Enjoy the convenience of an on-site lounge and restaurant: a great place to kick back and relax after an adventurous day.
Westin Bear Mountain Resort and Spa
Just minutes from downtown Victoria, Bear Mountain Golf & Tennis Resort Community is the perfect escape from it all.