FAQ's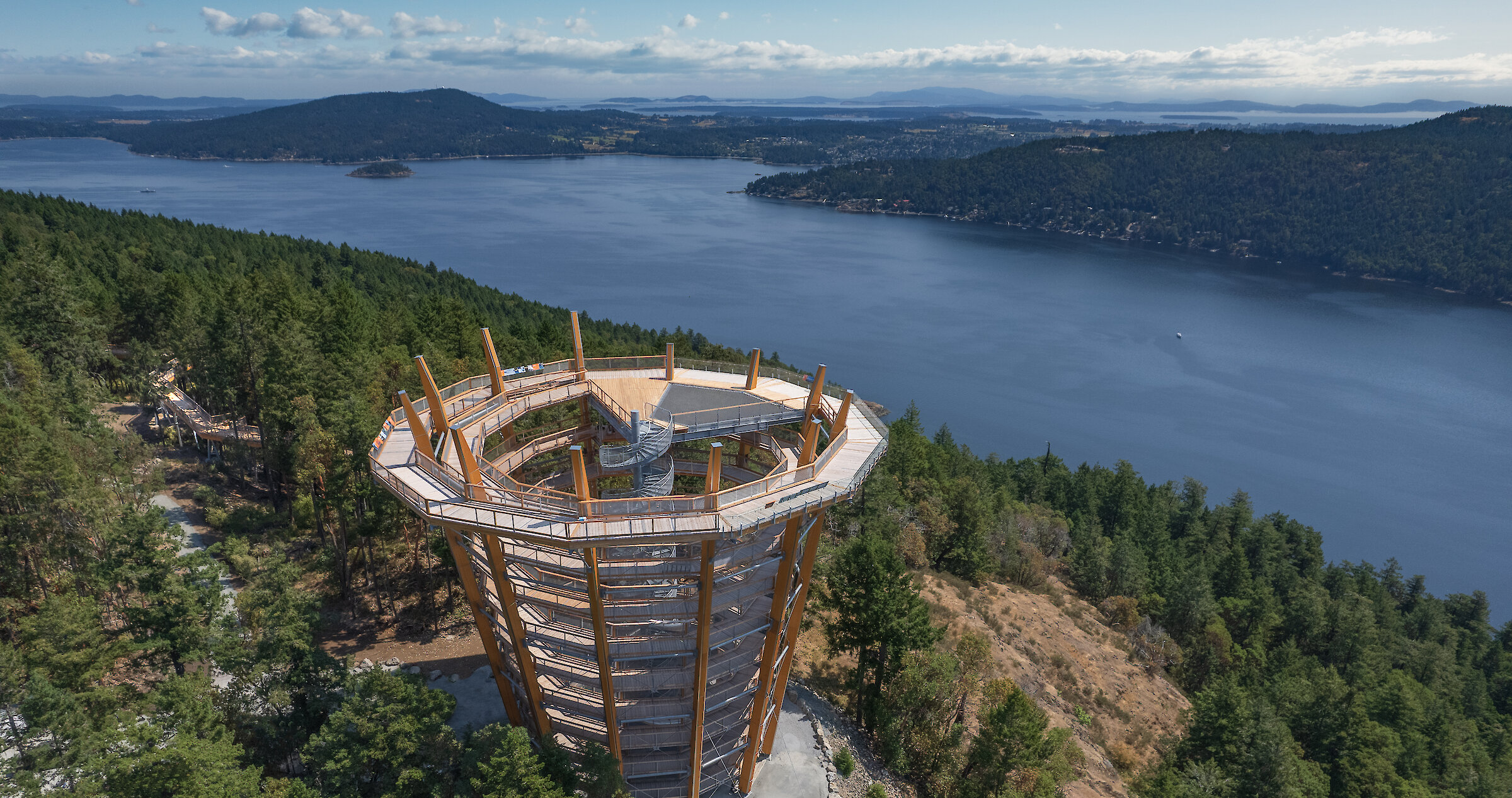 General
How much time should I allow for the Malahat SkyWalk experience?
That depends on how long you choose to linger and enjoy the viewpoint, picnic area, café, and shops. We recommend planning 90 minutes for the entire experience.
How long is the entire walkway?
From the first steps through the breezeway of the Welcome Center, to the top of the tower, and back to the cafe and retail shop, the entire Malahat SkyWalk experience will take you about 2.2 km or 1.4 mi through treetop canopies and lush forests.
What should I wear?
We strongly encourage people to dress comfortably and dress for the weather. Comfortable shoes are important as both the walkway and tower are a wooden boardwalk. We recommend closed toe flat shoes.
How do I get to the Malahat SkyWalk?
You will find driving directions here.
Can I bring my pets?
This is not a pet friendly experience and we do not allow any animals other than Certified Guide and Service Dogs.
Can I fly my drone?
Drones are not permitted inside the property.
What is the weather like at Malahat SkyWalk?
The climate on this part of the island typically brings warm, dry summers and mild winters. Here is a link to our current conditions.
What is the best time to visit the Malahat SkyWalk?
There is something interesting to see during all seasons. On clear days the views of the sea, mountains, and islands are stunning. Misty days present opportunities to learn about the forest closeup and quiet the mind and breath in the fresh air.
What is there to do at the Malahat SkyWalk?
Explore the 600m elevated TreeWalk with interpretive features throughout; ascend the 32 m tall Spiral Tower; enjoy the views from the 360° lookout; return via the Nature Trail at ground level through the forest; have lunch or a snack in our café; find the perfect gift in our shop.
Is there an elevator?
No elevator, however, the entire experience was built with accessibility in mind. The Elevated Walkway and Spiral Tower were built within a 5-8% incline in some sections, making it wheelchair, walker, and stroller friendly.
Do I need proof of Vaccination to visit?
At this time, guests are not required to show proof of vaccination to visit the Malahat SkyWalk. This applies to all facilities within the park, including our Cafe and Gift Shop. For current and up to date information, please check here prior to visiting
Slide
How big is the slide?
20 m or 65 ft tall. 50 m or 165 ft long.
Who can ride the slide?
Anyone over five (5) years of age AND over 42" tall can ride the slide (that's 107 cm, or 3 ft 6''). Ultimately, only you know your abilities or your child's abilities best even if they meet these requirements.
******ALL RIDERS MUST SLIDE SOLO.******
Amenities
Can I have lunch at the Malahat SkyWalk?
Absolutely. Our café focuses on grab-and-go local products. Dine in or take a picnic to go.
What does your café have?
The café has full beverage service, with coffee from Stick in the Mud Coffee House, as well as picnic grab-and-go food and snacks, and delicious baked goods.
Do you have electric charging stations?
We do not have one on site, however, there are many stations nearby including the closest two:
Malahat Chalet – 1 charging station
265 Trans-Canada Hwy, Malahat, BC
Mill Bay Shopping Centre
2720 Mill Bay Rd, Mill Bay, BC
Annual Passes & Tickets
How long is my Annual Pass good for?
Your Annual Pass is valid for one year from the date of issue.
When is my Annual Pass active?
Your Annual Pass will be activated at the time of issue.
Does everyone from my family have to come pick up our family pass together?
Individuals included in the Family Pass must all come together at the same time before we can issue the member passes.
Do I have to buy Single Admission Day Tickets for a particular date?
You do not need to schedule a time or date to visit the Malahat SkyWalk. Admission Tickets are valid for one year from date of purchase and can be used any day we are open. We do not accept reservations.
What if I buy my ticket in advance and I have a change of plans?
Malahat SkyWalk tickets are good for one full year from the date of purchase. Tickets are non-refundable.
Can I upgrade my Single Admission Ticket to an Annual Pass?
Yes! As long as it is on the same day you visit the Malahat SkyWalk. Before you leave that day, stop by the Welcome Center and we will be happy to apply the price you paid for your ticket to the cost of the Annual Pass.
Do you offer a group ticket discount?
Yes, we offer a 10% discount for groups of 10 paid admissions or more. To receive the group sales discount, tickets must be pre-purchased in advance of your visit and must all be purchased at the same time for the discount to be applied. Please call 1.833.625.2428 or email Enable JavaScript to view protected content..
Do you accept Access 2, BC Ferries Disability, and the Leisure Access cards?
Yes, we offer a free caregiver ticket for the following cards: Access 2 card, BC Ferries Disability card and the Leisure Access card. The card grants 1 free ticket for the support person, while the Access 2 cardholder pays the regular admission fee. When purchasing a ticket, the Access 2, Leisure Access Pass or BC Ferries Disability cardholder must present a valid program card prior to purchasing their tickets. Both cardholder and support person must attend the Malahat SkyWalk together.
Do you offer a Veteran or Military discount?
Yes! Canadian active military members and veterans with valid identification will receive 25% off their single-ticket admission. Please provide your CF1 card or valid military identification along with photo identification to our Guest Services team when purchasing your ticket. The discount is only valid for a single-day ticket for the person showing proper identification.